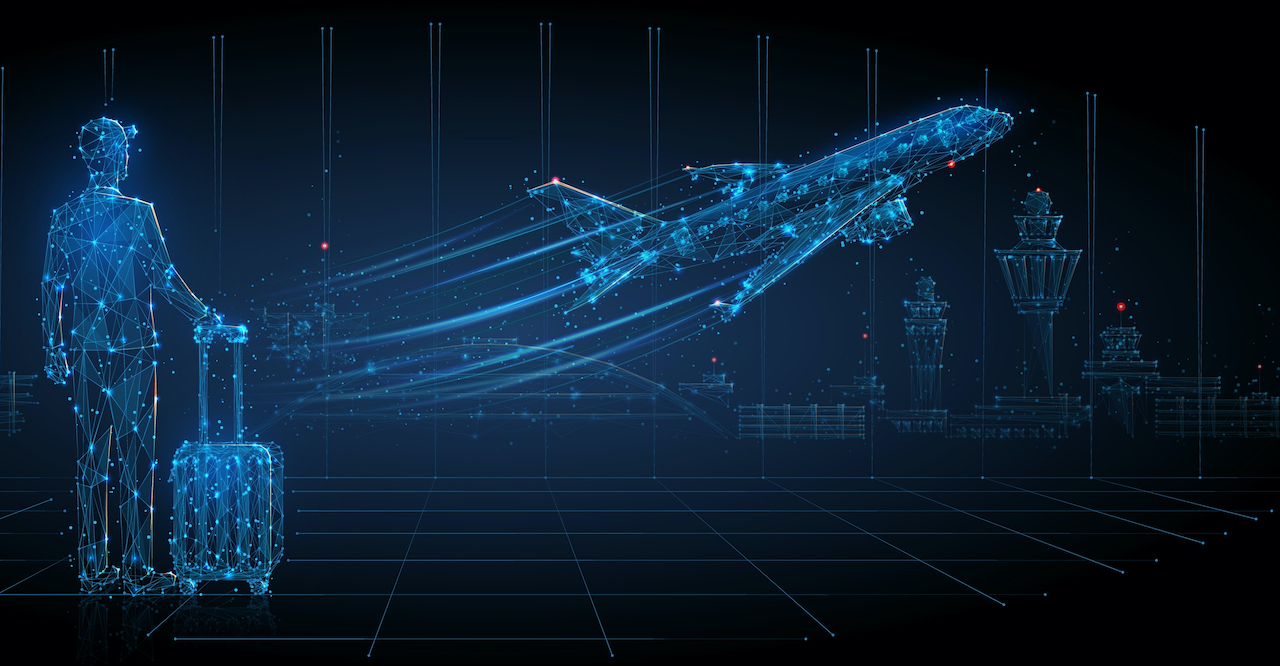 Returning passengers will rate a low-hassle experience and reliable processes – are you ready?
The pandemic's damaging impact on our industry has been amply chronicled from nearly every angle. However, many players agree that a positive side-effect is how it has accelerated digitalization. This is particularly true for airports, who by the nature of their position as infrastructure providers, have seen a high degree of efficiency be wiped out by necessary Covid-countermeasures.
In addition, business survival has been dependent on radical downsizing and fast implementation of cost control measures. Now, in light of cautious optimism regarding an upswing next Spring or Summer, resources are scarce, and lead times to recruit and train are long. This was already painfully visible at most German airports during the late Summer and Autumn holiday peaks. Consequently, automating more processes and thus implementing more digital solutions are a necessity. After all – following all the uncertainty during various lockdowns – what customers will value above all else when returning to travel will be reliability and predictability. In 2022, airports will increasingly be competing with alternative means of transport, given that post-pandemic travel will – at least initially – be largely regionally focused. This is a prime opportunity to convince repeat customers (or alienate many for a long time…).
Airports must therefore own and drive their digital destiny.
Here comes the "but" – why Airport digitalization projects often fall short
Unfortunately, most airports cannot exactly point to the best track record on achieving step changes in service quality or operational stability via technology. The reasons for this can be found in the dense jungle of technology trends and fashionable solutions available, certain organizational characteristics such as legacy IT systems or lengthy procurement processes, and finally airports' position at the center of several operational stakeholders.
Despite abounding solutions and technology propositions, so far no industry standard has emerged on key technologies, such as biometric tokens or self-service interfaces. It is thus difficult to determine which solutions are worth pursuing. Many use cases sound great – but only deliver limited value for passengers if implemented on their own. A relatable example for this would be quick and easy self-service immigration gates followed by a lengthy wait at the baggage carousel. Other solutions in turn do not deliver the value expected, e.g. self-service bag drop machines, which if deployed as a one-size-fits-all product often still require manual intervention and more transaction time than experienced agents.
A major issue for airports to overcome on this front is a lack of objective criteria to compare technology solutions and vendors – both in terms of capabilities and their fit with local requirements.
Another factor impacting airports' ability to achieve notable gains from digital innovation is more organizationally driven: they are inherently risk averse. Often, their systems landscapes and ecosystems are historically grown, not harmonized, and not set up for supporting the implementation of new ideas or disruptive technology. Clearly, there is a broad range in terms of the differing digital maturity stages of airport companies across markets, depending on their size, location, culture, economic situation, and customer base. But a common theme we see at airports is that existing systems are only partly upgraded, or only isolated processes are automated on a trial basis.
So the bottom line remains that incremental gains do not lead
to substantial transformation.
Equally important for the success of digitalization projects is understanding the airport's stakeholder landscape. This often provides a tough setting for establishing needs and requirements, as it's usually a complex structure of authorities, process partners and service providers – each with their own interests and agenda. On top of this, some of the above not only have a substantial impact on an airport's operation, but also the potential options open to choose solutions or technologies from. The result is usually that stakeholder input into the planning of potential solutions does not provide a clear picture. Airports then struggle to solve this lack of clarity and structure the various demands and requirements from different sides. The resulting scope creep and bloated backlog naturally increase a project's complexity and divert attention from the initial project goal.
Ultimately, failing to rigorously prioritize only increases
the risk of overall failure.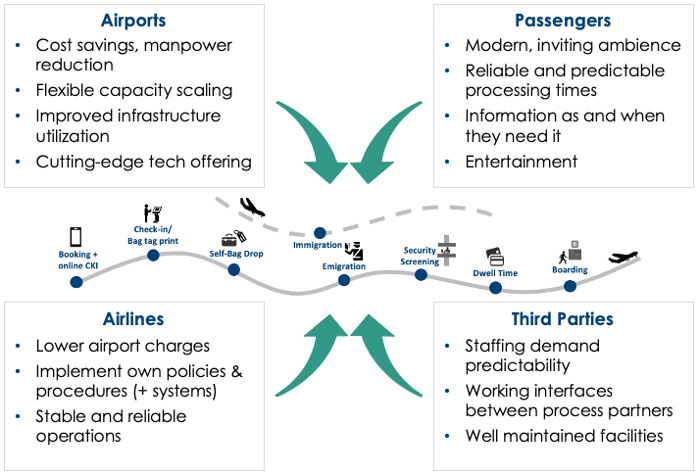 Key Approach to overcome these challenges: retro-polation from a holistic long-term vision
In order to achieve transformative step-changes for their passenger experience, airports must therefore first establish a target vision and work backwards in actionable steps. This starts with a structured assessment of the Status Quo and particular needs for local infrastructure, customer mix and IT ecosystems. During the definition, it is important to focus on what passengers value and what the local infrastructure needs to deliver a substantially improved experience. Based on this overall concept, it is then much simpler to assess potential technologies, prioritize requirements and redesign processes.
In order to manage stakeholders' expectations and influence on the project, it helps to conduct an analysis of each stakeholder's impact on the desired results as well as on gaining approval for target picture. This way, they can be grouped by the magnitude of their influence, and communications tailored accordingly for each. In addition, by working backwards from a concise target, strict prioritization of requirements can easily be argued based on their impact on the customer experience. This is equally applicable for staff and resource requirements as well as infrastructure and capacity utilization, of course. After all, the main key to gaining approval for investment decisions remains a sound business case. Finally, the definition of a scoring model for ranking potential solutions is made easier if based on established priorities.
One important benefit of breaking down the journey towards a holistic vision into smaller, operationalized steps, is that risk is reduced and made manageable. Once the overall target is clear, following an iterative process in developing the solutions needed to get there has significant advantages:
Development and planning follow a defined but adaptable process
Flexibility to incorporate new insights from testing is built into the project
Ability to react to changes in requirements/environment is retained
Risk is reduced by reviewing results in shorter intervals
Concepts are made future-proof by allowing room for corrections or additions

Conclusion
Digital airport transformation projects derail or fall short for notable reasons. But these can be overcome by starting with a clear target picture based on passenger requirements. This should include all aspects of process chain, and selected solutions be prioritized based on maximum customer impact. Working backwards from the target vision and applying an iterative approach to developing or selecting solutions reduces risk, allows room for new learnings and increases success rate.
Airports must decide whether they want to get on the front foot and take charge of their digital destiny or be followers that chase trends and adopt solutions developed elsewhere.
Speak to an expert