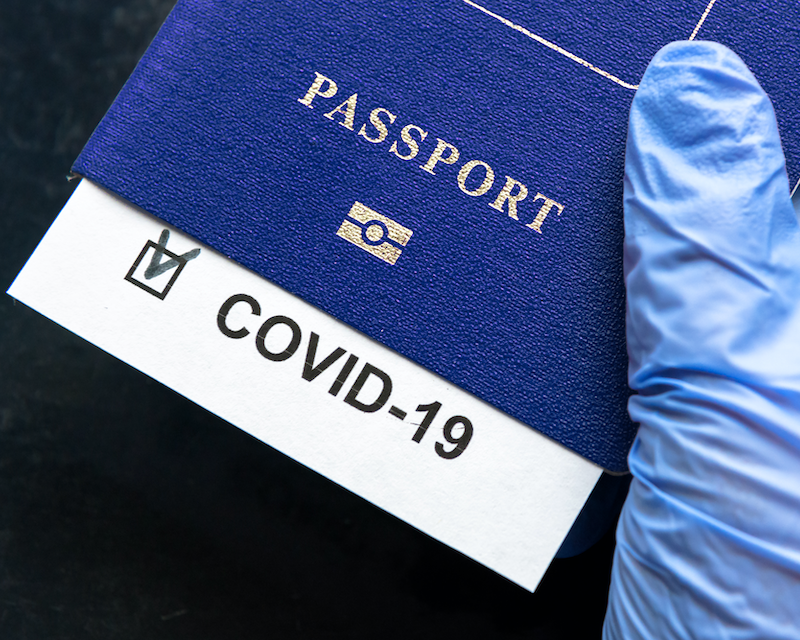 Introduction
Restoring Airline Networks Under Immense Uncertainty
It's October 2019, and you're about to head to the airport, like you do on a regular basis to catch a flight. You take it for granted that you can travel far and wide to see people for business or pleasure – in person.
Back to the future and it's late 2020. The aviation industry came to a grinding halt months ago, resulting in an excruciating 80% decrease in traffic volume, and has been desperately trying to get back off the ground ever since. Further decline of the industry will put a further 41.2 million jobs at risk, and that's not even including the impact on trade and a wide variety of cross border businesses.
We must not forget the personal cost; not being able to say goodbye to a loved one, only seeing your new grandchild on a screen. The industry has adhered to strict hygiene and social distancing measures, but this is just one element of the puzzle. Ever changing travel restrictions have left the public confused, uncertain, and feeling unsafe. It's no surprise that consumer confidence has taken a sharp fall.
---
What is the solution? How can the industry find its feet and regain the trust and confidence of travelers around the globe? How can travel be seamless and hassle free during the time of Covid? According to a recent IATA-survey, the majority viewed testing as a necessity for travel and would also be willing to get tested. In a recent briefing IATA Director General and CEO, Alexandre de Juniac explained:
"We have a solution to open borders while mitigating the risk of importing COVID-19 through air travel. That is universal testing"
The reality remains that the only true solution to exiting the pandemic is a vaccine. However, universal testing is an enabler. It will help airlines and airports to fulfill travel and entry requirements of foreign countries and mitigate the risk of passengers being refused at entry. With a negative test result at hand, mandatory quarantine periods at destinations can be avoided, and the world can begin to move again.
Some airlines and airports pre-empted the urgency for measures that go beyond hygiene and social distancing rules, and have already implemented measures not yet required by regulators. Here, we take a closer look at who has and is trialling rapid screening and how it is working in practice.
Who is Trialling Rapid Screening?
Rapid screening methods such as the PCR antigen test, are a promising option due to its speed, showing results within 30 minutes.
Rome Fiumicino Airport (FCO) first introduced rapid screening on a pilot route and are continuing to trial. The hygiene concept has been audited by Skytrax and awarded with the first and only 5 Star rating (compared to 12 other European airports with 3 or 4 stars – status: 05.10.2020).
Airlines including United Airlines and Lufthansa, are planning to implement rapid testing, with United trialing it on their San Francisco to Honolulu route, while Lufthansa's intercontinental flights are yet to be defined but will initially be offered to First and Business Class guests.
London Heathrow trialed a technological approach with a machine learning holographic microscope to provide results in only 30 seconds to see "if such tests can be conducted on passengers outside of a laboratory setting."
Helsinki Airport is trialing an unconventional approach, employing trained dogs able to detect the virus within seconds by sniffing skin wipes (currently being trialed on voluntary and targeted arriving passengers).
What Types of Tests are Available?
We compared the test types available and assessed the advantages and disadvantages for different testing methods.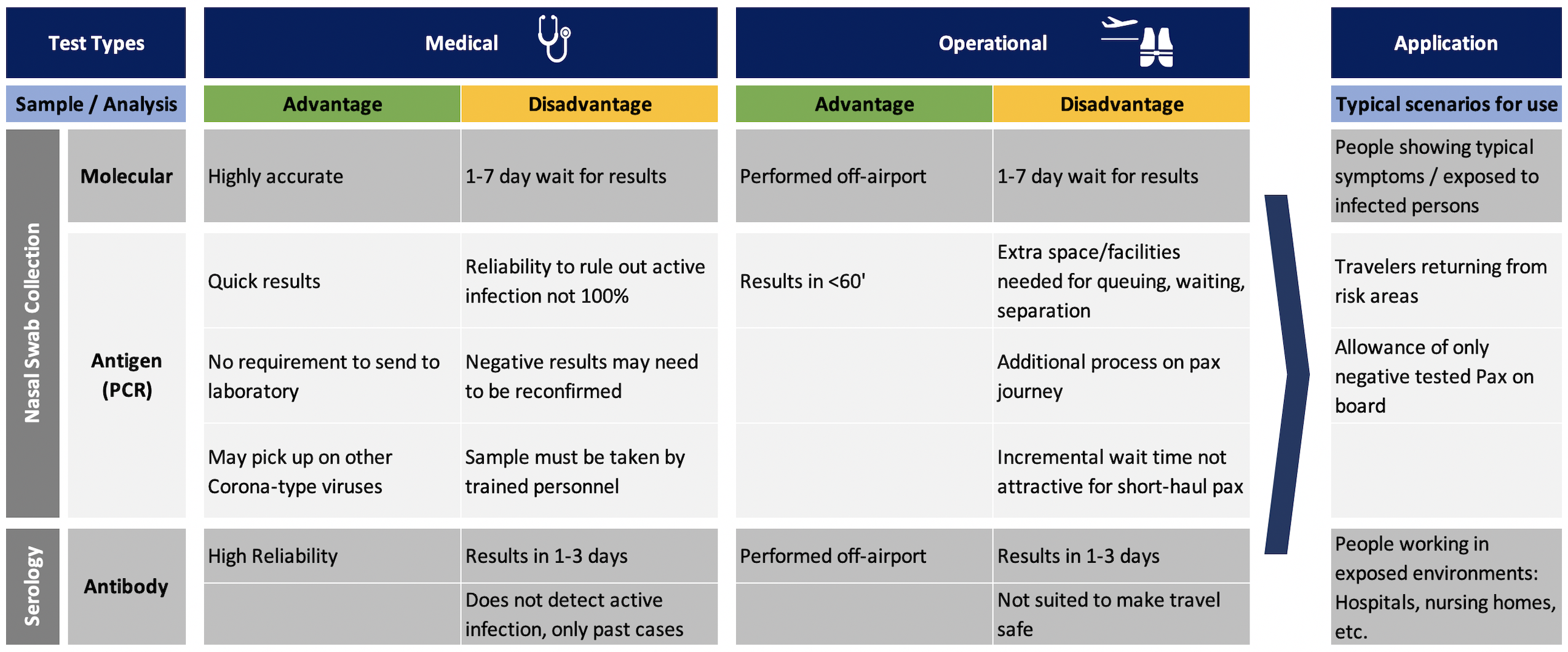 How And Where Will Rapid Testing Work in The Complex Airport Environment?
Assuming that an industry-wide consensus can be established, and that a reliable and swift test will be available in sufficient quantity – and time, airport leaders will face the colossal task of adapting their processes to make screening and testing an inclusive part of the airport passenger journey. There is no one size fits all way to embed testing; every airport infrastructure is different. Successfully adding a new process to the passenger journey will require different solutions for different airports.
However, all airports will have similar questions as they explore how universal testing works in an airport environment. These will include:
How can we separate tested passengers from untested passengers?
What is the process to isolate passengers who receive a positive test result?
Where is the best place within the airport to locate a test facility?
The test location will need sufficient space for socially distanced queueing, and a waiting area while tests are being processed. Of course, adequately trained personnel will be needed to run each airport test facility; and there is the actual training to consider too. Once trained, robust safety and hygiene measures will need to be implemented to keep staff protected from contracting COVID-19. And of course, the traveling public's trust and confidence will only be restored if they are confident that they won't run the risk of being excluded from a flight because they have been in the vicinity of an infected person.
As mentioned. The location of the test facility is critical to the success of rapid screening and testing. The optimal location is likely to be somewhere that captures people before they enter the often complex passenger flow of the airport terminal, and have higher risk of coming into contact with individuals before being tested. Potential locations could include an emptied parking lot close to the terminal entrance, a temporary installation near the airport train station, or just in front (or inside) of the terminal entry doors.
Recommendation for Action
To keep up with the pace of change caused by the pandemic, it will be essential for airports and airport regulators to take a joint overarching approach. In terms of implementing rapid screening processes, lean, thorough and effective project management will be essential.
Collaboration is key
Although learnings from test facilities both inside and outside the industry will be leveraged to design a best-in-class concept, stakeholder involvement from experienced airport professionals will be key to creating a test process that works for the airport environment.
Government, safety, security and regulatory stakeholder involvement will be essential too; national and international regulations need to be carefully considered to arrive at a solution that works.
There are a myriad of other important stakeholders including airlines, ground handlers, and health institutions. Early collaboration with the right people is critical.
Bringing the views, needs and requirements of the above together will only be successful through defining and creating clear processes and documentation; the number of requirements will be very high and these will need to be mapped carefully.
Test, Test, Test, then Test Again
Once requirements are agreed, there will be a huge amount of testing processes, establishing workforce requirements and ongoing management of the overall aim to launch effective and rapid on-airport screening.
A Lean, Agile Approach Will Get Fast Results
Unlike traditional projects that can take years, there is urgency for universal testing to be introduced. The most effective way to achieve this without compromising on the end result is to implement in stages, taking a modular approach where concepts can be piloted and brought to market fast.
This approach will ensure flexibility, while maintaining a robust mandate, appropriate involvement of senior management, with shared overarching goals across all departments.
In a Snapshot
Airports and the aviation industry at large is crying out for a joined up approach to getting the aviation industry airborne once more, while regaining customer's trust and confidence to fly during a pandemic. Decisive action is required on several fronts. There needs to be:
A concerted and joined up effort to create and implement a rapid screening and testing solution for Covid-19 that is reliable and has consistent industry standards across the world.
A strong and robust project plan for each airport lead by a dedicated, senior project management team who ensure a flexible and fast approach can be adopted to integrate an effective testing facilities into the complex airport infrastructure.
The airports and airlines who adapt in ways that promote safe and secure flying for the general public will be best placed to pick up the traffic when the world emerges from the other side of the pandemic.
Rapid screening and testing is not the magic solution we have all been waiting for; we're relying on a vaccine for that. But, it is an enabler and we need it fast. Testing, at airports, along with the public adapting to a Covid transformed world might just be what is needed to save the deeply suffering aviation world.
Speak to an expert